Daily Journal of a Young Lady
1880
Blanche Holmes
Portville, N.Y. – December 1, 1880 Not a very pleasant day. The wind blows and the snow is beginning to fall. Fremont and I went to Olean today. Found Rene nearly sick with the toothache. I had one of mine filled again. Bought a Dictionary, some light aprons and getting ready to begin my school. Mr. Hollenbeck sent my certificate today.

December 2, 1880 – Thursday Getting ready for school. Sewing, knitting and mending, gathering things together and packing them away. My trunk stands out in this room. I have borrowed Georges's school bell. I will be ready when Elba comes Sunday.

December 3, 1880 – Friday Nothing to write for today. I have spoken the Barbertown school this weekend think I stand a very good chance to get it for this next summer.

December 4, 1880 – Saturday George, Mother and I went to Portville today to see about Mother's pension papers. Came back about noon, went up to Emmeline's because Mate and the children were there. Frank came from church, was very good natured indeed. Had chicken for dinner and returned home about 4 o'clock. I guess Flora thinks we are very fond of spinning street yarns. Her baby is one day old.

December 5, 1880 I came to Chestnut Hill today. Elba and Rami came about noon. Rami is going to the Oil Region. At first Kate is not very glad to see me, but I guess she will be alright before too many days.
Stella left her today and she will have her work to do alone now. Baby is rather cross and altogether she feels as if she had more than she could very well do.

Chestnut Hill December 6, 1880 Commenced my school. Had a very pleasant day for the first day. Thirteen names on the roll. Very good if it lasts till Spring. I went home with Elba's little boys. I think I should get along nicely. The scholars names are: Gertie and Josie White, Ernie White, Alice Well, Nellie and Georgia Morris, Charlie and Willie Grames, Frank Wheeler, Georgia Sherman, EarleRalph, Mark Holmes..
Plank Road December 7, 1880 Seems colder today than yesterday, I wrote. I went home with the White children. Quite a walk. Not very much snow but very icy. The bed I slept in was like a cake of ice, or nearly so, I thought I would freeze. Josie was my bed-fellow. They put in a kettle of coals in the room, but, it did not do very much good. Eleven boys and two girls at school. Little boys went home alone.
Plank Road December 8, 1880 Reached the schoolhouse at twenty minutes past eight. Found the house full of smoke. The old stove is not very good. The weather is colder than yesterday. Little boys came and brought me an apple. Ten boys and two girls today. Mrs. White has supper ready when we get home from school.
Plank Road December 9, 1880 Reached the schoolhouse again this morning at twenty past eight. Built a fire. The old stove smoked like a smokestack. Mr. Wells must see to the stove and windows or we will freeze. Weather not quite as cold. Ten little boys and two little girls again today.
Friday December 10, 1880
Went to Mr. White's again last night. Came to Elba's tonight because it is Friday night. Elba went to the Corners today. Didn't get home till after we had been to supper. He brought home some oysters so we had another supper after eight o'clock. As I was preparing for bed, a stick took me in the neck and I could hardly endure the pain till morning.

Saturday December 11 I did not feel like washing in the morning so I waited until almost four o'clock. My neck is rather stiff. Elba butchered his hog today. Mr. Donovan and son helped him. I rocked the baby to sleep three or four times today and finished my black and white apron, but, haven't enough thread for the red and white apron.

Sunday December 12 About eleven o'clock, I commenced the story "Darkness and Daylight" and finished it before I went to bed. Very good – but not as good as some of Mary C. Holmes' stories. Oysters for dinner today. Elba went the Corner's again. Started before I got up and didn't come back till late.

Chestnut Hill December 13, 1880 Another day of school has passed. Elba has gone to the Center. Intends to go to Rixford tomorrow. My neck is worse tonight. I think I will stay here this week Trying to work but my neck will not consent.

Tuesday December 14, 1880 How my neck aches this morning. I would like to know the trouble. I saw Mrs. Wells?, Wills? Tonight when I came from school. She said saltpeter and saleratus, would help my neck. But Kate could not find any saltpeter. Little boys have been to school every day. Baby is rather cross.

December 15 I am almost discouraged, my neck is still growing worse. My shoulders ached so badly that I thought I must cry in spite of everything. When I came home from school, Mrs. Wells let me have some salt-peter and I think it will help me. Baby is very cross again.

Chestnut Hill December 16, 1880 School is very small, only eight boys at first. Frank Wheeler came rather late. Josie stayed home to help her mother for the baby is sick. Rather a disagreeable afternoon for some reason. Whether the fault if on me or not is more than I can tell. My shoulders are very much better.


Friday December 17, 1880 A very warm day. The scholars are not very mischievious but rather kind and agreeable. Hi said I would have company today but he was mistaken. Two weeks of school gone. I am not sorry yet I do not get homesick as I expected to be.

Saturday December 18, 1880 An anniversary of Grandpa and Grandma Barber's wedding day. Did the washing alone except for pounding Kate's clothes. Must drape Kate's dress and hem baby's cape. Only one week before Christmas. Elba came home from Rixford to-night. Harry Rhodes came with him.

Chestnut Hill December 19, 1880 Kate and I went to the Corner's today. We were gone four and one half hours. Elba tended to the baby Will while we were gone. I found something for C………., wrote to Mother and Rene.

Elba named the baby last night Will King Holmes for his friend W. K. King.

Monday December 20 Elba has gone to the Center again. Will he give Mother that letter? Ina Wells came to school today. I have more classes than I can very well manager. This is the beginning of the third week. How I wish for good success but do not know how to do as I would like.

Tuesday December 21, 1880 I made a pair of cuffs for Kate and draped her dress. Elba came from Center to-night. Brought a suit of clothes from Earle and some caps for all the boys. He brought some cheese for Kate from her father and a corset that Rene sent. Hi helped me get some horns. I want to ornament them for Christmas.

Chestnut Hill December 22, 1880 Made a collar and a pair of cuffs for myself. Boiled the horns and scraped one of them. We commenced some elastics for the boys tonight and went to bed at twenty minutes of eleven. Ina went to Orlando Wells to stay over-night. I like her very much.

Thursday, December 23, 1880 I can't find anything to write unless I say another day has passed without using the horse whip, or Rawhide. I finished the elastic, worked at the horns, but failed to accomplish much.

Friday December 24, 1880 Tomorrow is Christmas. How I wish I had some nice gifts for my friends. Elba came tonight wish-the-while horses instead of Bird and Red. Little boys have gone to bed rather early as to be up early in the morning. I can't finish the horns but will try to finish them some other time.

Portville December 25, 1880 We are all at home today for the first time since Rene was married. We had a "tree" this morning. Everyone received something. I received three vases, towels, a handkerchief, cake of toilet soap, and a comb. One vase was broken while being hung on the tree or I would have had another. Mother's presents were a castor, a syrup cup, a vase, a backcomb, etc., and others too numerous to mention.

Sunday December 26, 1880 What a hub-bub and confusion for Sunday. All the family went to Uncle Frank's for dinner. What a good time we have had! It was twenty minutes past seven when we reached Chestnut Hill. I was so tired I could hardly sit-up long enough to get there. I wish I could have Mother here all the time.

Plank Road December 27, 1880 Another day has passed away and I intend to go to Mr. Orlando Wells tonight. Some days the "scholars" are very troublesome, then again, they do very nicely. The weather grows colder, the snow is quite deep. Mrs. Wells will be good and kind as I can rest for I am almost sick.

Tuesday December 28, 1880 A very cold morning this morning and the snow is drifted through the roads and as I was the first one to go down the road I had to break my own road. I like Mr. & Mrs. Wells very much and the noise and confusion of several weeks have been nearly forgotten in one short night where all is quiet.

Plank Road December 29, 1880 A colder night than usual. I could not get warm until I went to bed. Mr. Wells went to the Corners yesterday. Did not get home very much before I did. How I wish I could make Allie ashamed of his miserable actions. He is the largest scholar and the others will do as he does. Will stay at Mr. Wells again tonight.

Thursday December 30, 1880 The weather continues to be very cold. I came very near freezing my feet and hands this morning. The water pail was frozen nearly solid. Frances Wells visited the school this morning. Gertie and Josie did not make an appearance on account of the cold weather. Am going to Mr. Wells again tonight. I find them very pleasant and the house quite comfortable.

December 31, 1880 Friday The last day of the old year! What will be the end of another year? Some may be dead. Some may be married. Some maybe in trouble, and others may be happy. Such has been the way during other years. Why not this? We will accept thy will our Father whatever it may be and pray that Thou will grant us the strength
We need to be brave and strong. I am here with Kate tonight.

Saturday January 1, 1881 New Years is here and a very cold one indeed. Kate and I washed and ironed some. I went to Mr. Wells for the Report Book and I have made out considerable of the first months' report tonight. We have looked in vain for Elba. There is to be a meeting tomorrow in the Plank Road schoolhouse. I would like to go if Kate could go with me, but baby Will must have all the care and attention therefore, we will stay at home.

Sunday January 2, 1881 Hi and Earle went to Sharon. I sent a letter to Mother. They were coming home in time to go to meeting with Ralph and Maude but failed to return in time.. I did not read very much today because I did not feel inclined to do so.
Baby Will was very good. Kate commenced the new book entitled "Near to Nature's Heart" and likes it very much. Only one and one half days more and then one month gone.

Monday January 3, 1881 School was not very pleasant today. I found the schoolhouse rather out of its usual Monday morning appearance. That is the good the meetings do these Plank Road boys. Mrs. White did not send any wood so I went to Elba's I was tempted to go to Mr. Wells. Ina asked me to go to their house next week.

Chestnut Hill January 4, 1881 Another time I have been at Elba's. I ironed my clothes and tried to crochet some. Today finishes the first month and I have made out my report. Mr. Wells says it is not necessary to do that until I finish my school and he will get the money for me if there is any in the Treasury.

Wednesday January 5, 1881 Ralph has such a cold and was feeling badly this afternoon that I let him do home before recess and Kate did not like it very much and for that reason we have a very poor evening. I cut a pattern for Mrs. Wells and tried again to crochet. Ralph is better tonight. I'll not give him permission to go home again, you bet.

Chestnut Hill January 6, 1881 A very warm and pleasant day. The snow is thawing from the steps and we have concluded to clean the schoolhouse tomorrow. I would not go to Elba's if I did not need my dress and big apron. Snowed some last night so we had to wade to get to school.

Friday January 7, 1881 A cold windy day and the snow has blown into drifts. It was a very poor day for housecleaning but the little boys did not bring their dinner so we did the best we could. Allie and Frank went to Mr. Wells for the big kettle. Ina and Josie went for pails, pans, soap and mops and when they came back they brought some dinner for me. Frank Wells would send it – said I would starve if I did not have some dinner. Very nice I think.

Chestnut Hill January 8, 1881 Washing day again. I washed the dishes, swept the floors, tended baby and worked on Kate's apron. Mack is five years old today and baby Will is twelve weeks. Elba wrote that Mother and the children would be here next Friday. Another week passes away before I can see them.

Sunday January 9, 1881 I wrote Mate last night for her to fix Fred to stay with me a week or two. I have read the story of "Sibyl's Influence" and Kate finished "Near to Nature's Heart". Kenny Rhodes came a little while ago and will take my letter to the office.

Monday January 10 I went to Mr. Miles Wells tonight. The girls are full of racket and fun. I could not keep my feet warm and of course I did not enjoy myself very well.

Plank Road January 11, 1881 A very cold morning. The path is not very well broken. All the pine wood is gone, Georgie Sherman used the last of it this morning. Ranie and Charles Jacobs came to the Wells tonight and stayed till nine. I left my needle at the schoolhouse so I could not or rather I would not work.

Wednesday January 12, 1881
Came to the schoolhouse at about ten minutes of eight and found no fire and very little wood for kindling, but succeeded in getting a fire started after a while. I went to Orlando Wells for I did not dare go below for fear of catching more cold and I do not want to do that, I am sure. I'll go some warmer time or not at all.

Plant Road January 13, 1881 I was feeling so poorly last evening that Mr. Wells made some tea for me, but I think that it did not do any good for I am feeling far from well. I thought I would go to Elba's tonight and iron but Mrs. Wells said not to go. I stayed with her and she made some soup for my cold. It was made of pepper, butter, bread and water.

Friday January 14, 1881 I started for school rather early thinking I would get around to clean school before 4 P.M. bur failed and George, Fred and Rene drove down for me. I thought it was the superintendent and therefore I was very frightened.
Our folks came today about noon. Elba and Anna came this morning. Kate has a very sore throat. Mother and I washed the supper dishes before they came. How we will sleep is yet to be ascertained.

Chestnut Hill January 15, 1881 . Saturday, all day. All here yet. I counted noses and found sixteen. The same number that were home for Christmas. I have washed some, cut-out three dresses, fitted two (fitted for Mother and Anna) and cut-out two for Will and one for Anna. Kate's throat is worse and she is feeling very badly. Anna washed for her and tonight Mate and Anna made a dress for Will. George and I played dominoes.

Sunday January 16, 1881 Morning – all the company here yet. Our folks will go this afternoon. Elba and Anna will go tomorrow morning. Later -folks went home around two o'clock. After they started, I went to bed for a cat-nap until nearly dark. Anna ironed Ramie's shirt and cuffs and collars. She will sleep in the Parlor bed tonight. I put some pork and mustard of Kate's throat tonight.

Chestnut Hill January 17, 1881 Elba and Anna started for Rixford this morning. I rode to the corner with them. I carried five pictures to school. They look very nicely. Came back onto the hill again. Helped Kate get supper and wash the dishes and filled some pies. Kate is not improving very much. Charlie Grammes took to his books home last Thursday night because he was mad. He can get pleased when he gets ready.

Tuesday January 18, 1881 I managed to get up about half--past five today. Helped get the breakfast, washed the dishes and arranged my room before going to school today. Ina and Allie did not come to school today. Sydney Morris and family moved to Ceres toady. George Sherman leaves school on that account. Charlie Grams brought his books again this morning.

Chestnut Hill January 1`9, 1881 Kate washed and then mopped twp large rooms yesterday and took cold. I gave her a whiskey sting which helped her very much. I wound carpet rages tonight. Hi went to Sharon for some medicine for Kate but did not get it because Mr., Dodge forgot to order it. Baby Will has been very cross today.

Thursday January 20, 1881 Wound carpet rags again tonight. Little boys are very noisy. Mack is reading most of the time. I wished I had more time for their lessons. Hi went to Sharon again tonight.

Friday January 21, 1881 It was storming very hard when we got up this morning. Rained when we started for school but soon turned to snow, I continued all day. I did not wear my leggins, so Hi came and brought them. Chas Jacobs and Rami visited the school in the afternoon. Ina did not have any geography lesson today. Wound carpet rags again.

Saturday January 22, 1881 Still snowing. Kate and I washed and I cut out a lounge coat and wound carpet rags. Rami came in for a while last evening. He came over today to bring Hi's paper but did not come into the house. Ruby Donovan came over to play with little boys. Henry Rhodes came from Sharon with a grist of graham. Little boys have sport with their sleds. Ralph and Maude draw Earle and they look comical I assure you.

Sunday January 23, 1881 Sunday again. Henry Rhodes came for the team Hi went to Sharon for the mail brought Kate's magazine. Kate and I had a Sunday School lesson tonight after little boys went to bed. We had chicken for dinner. Kate dressed them last night. I sat up until after eleven last night trying to read. I hope I can go home next Friday night. Still snowing.

Monday January 24, 1881 Snow is very deep as Hi started to beak a path but found a path already made so he went back. I intended to go to Mrs. Morris' this week but she is anxious to make some visits – so Mrs. White sent for me to come there. I found a very good road all the way. I sleep upstairs with Josie and have a fire to warm the room instead of a kettle of coals.

Tuesday January 26, 1881 Started for school at half-past eight and had a good till Allie came. Then it was noisy and confusing. We had company this afternoon. Belle Wells and Mrs. Swarthout. Came to Mrs. White's again tonight. Am working while the rest are in bed.

Plank Road January 26, 1881 The weather continues cold. Someway, the wind blows terribly every time I come to Mr. Whites. I knit on my brown knitting work and was obliged to take out a part of my morning work.. The girls had to drag Ernie a part of the way to school yesterday. If he were my boy, I would not send him for he does not learn enough to pay for the trouble he makes.

Thursday January 27, 1881 The wind blew so terribly last night that the road is drifted full of snow. So much so that we had to break our paths this morning all the way from Mr. Whites. Ernie did not come. We did not find any fire and Josie had frozen her toe so we had a great time. Mrs. Morris went to Sidney's. I guess she had a good time for he lives this side of Ceres. I came to Elba's tonight for there is no other place to go, as everybody went visiting or is entertaining company.


Chestnut Hill January 28, 1881 I looked in vain for Fred but received a letter from Mate stating their unconcern as to my coming home. The snow was very deep when I went to school but not quite as bad as when I came home. Mrs. Morris went to see her daughter, Julia Kemp. I met her this morning. She told me to come there next week and I think I will. Kate thinks I will like her very much.

Saturday January 29, 1881 We have washed again today and I have made a lounge cover. So that much is done. Kate made fried cakes. We looked for Elba but Hi brought a letter from so we have given up that amusement. I thought Mother would come with him if he came. But presume she wouldn't for she would rather stay with Mate. I cut a pattern for Mrs. White last Wednesday evening for Josie's cloak.

Chestnut Hill January 30, 1881 I have not read anything today. I concluded to rest both body and mind. I wrote to Mate and think I will write in R book. Rami, Hi, and little boys went to meeting this afternoon Kate wrote to Elba. Baby Will is very good natured I think. Rami is here now A horse and cutter just passed the house. What a wonderful thing to have happen!!!

Monday January 31, 1881 This is the last day of this month. Each day brings the close of school one day nearer. I hope I can go home next Friday night so that Mother will come to stay a while. Kate and I wrote to Rene last night and a letter you never did read. Rami stayed till after eight o'clock. We ate apples and had quite a pleasant time. He visited the school today. I am going to the Morris' tonight.

Plank Road February 1, 1881 I went to Well's to carry a school schedule, then went back to Mr. Mims for supper Monday night. I found Mrs., Mims quite sick but managed to pass a pleasant evening. The boys have some matched pictures which are quite amusing. I think they believe in amusing the boys rather than letting them find amusement where they can.

Wednesday February 2, 1881 The air is very cold indeed today. I had a hard time trying to get my feet warm, then failed. The "little boys" were very cold when they came. Mark frosted his cheek, but they stand it – first rate. Not many scholars an account of the cold weather and deep snow. Received a letter from Rena written the Sunday evening before. She will probably get our better tonight. Then what will she say?

Plank Road February 3, 1881 The air is some warmer although it is cold enough now. I came to Elba's to take a bath and get ready to go home tomorrow night. I ironed my clothes this evening and tended baby Will a while. I had to ask Hi to build a fire for me for he is on his "high-horse" and don't offer his services very much. Must get ready for bed.


Friday, February 4, 1881 Morning. I am looking for George today but Kate says she will bet a "sixpence" that he will not come. (Later, about twenty minutes after eleven, George drove to the door. Wasn't I glad to see him? He will go to Elba's and wait till school closes for the day and then we will go home. Mrs. Wells wants to send a few things to Mary. Charles Jacobs visits the school this afternoon.

Saturday February 5, 1881 I did not go home after all I said and did, for Mother is sick and staying with Mate. We reached George's about seven o'clock, started about half-past four. The air was keener than a razor. I tried to get my school money but could not. Mother is better than she has been. The children were glad to see me. Dr. Booth paid a visit.

February 6, 1881 Today is Fred's birthday. He is eight years old. Mother is about the same. Dr. Booth will come again the first part of the week. I wish she could go up to Elba's and stay with me, but she will not. Henry Rhoades came for me. I reached Elba's about five o'clock. Found Kate so lonely she could hardly live. Rami and Alice Wells came in a while this evening. Rami would have come for me if he had been accommodating.

Chestnut Hill February 7, 1881 Four weeks more after this day before I am free to come and go as I choose. I am rather lonely after going home. I called at Mr. Mims to see if I could get dinner there this week for I am going on to the hill this week. The air is very much changed since last night. Washed my washing tonight after dark.

Tuesday February 8, 1881 I asked Kate if I could come back this week. I intended to do so any way. We wound nearly a skein of carpet rags. I mended my mittens and shoes and worked on my "boy Wills" dress. It was nearly eleven o'clock when we were ready for bed. I took dinner with Mrs., Morris. Mrs. Jim Sherman was there working on a dress for Mrs. Morris Air is still warmer than yesterday.

Chestnut Hill February 9, 1881 Trying to rain. It seems good to see rain rather so much snow. The air was very warm this morning, though damp. I took my waterproof for fear of a storm, but did not need it. Dinner again at Morris'.

Thursday February 10, 1881 When we got up this morning, we found the ground bare of snow in places and everything is wet as it could very well be. The water was rushing down the road so I could hardly get along, but once down here I have concluded to stay. Took dinner with Mrs. Swarthout. Will stay at Morris' tonight.

Friday February 11, 1881 The ground was frozen again. .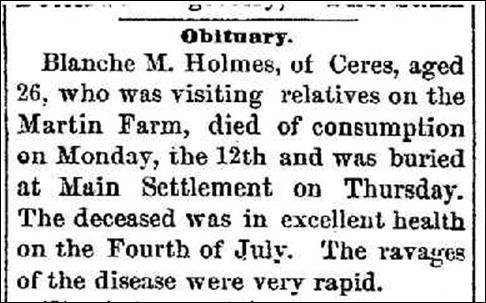 Blanch M Holmes




May 13, 1857

-

Nov 12, 1883